Planches de découpages Volumetrix / Volumetrix cutout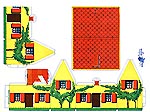 Constructions simples plus proches du jouet que de la maquette. L'assemblage se fait sans colle à l'aide de languettes : ce qui complique à la fois le découpage et le pliage (cheminée par exemple). Ces modèles sont présentés comme "démontables".
Simple toys models. Assembly with tabs without glue: so cutting and folding is more difficult (see the chimney for example on the sheet above.
Merci au correspondant qui m'a aimablement communiqué les copies de 3 planches typiques de cet éditeur.
A correspondant send to me three models typical from this editor. Thanks to him.
---
© 2001-2004 - P. Gauriat - Last modified August 11, 2004