Montage Motrice et remorques Sprague / Sprague railcar and carriages assembly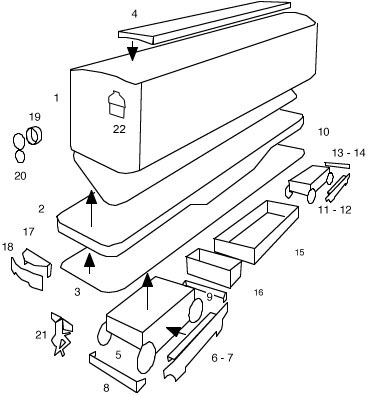 Montage de la caisse / Body assembly
Commencer par la caisse 1. Avant le collage faire les plis mais aussi arrondir le toit et les deux faces avant et arrière selon la forme indiquées par les bords du toit. Assembler les extrémités en les collant au toit puis à la face latérale. Fermer par le plancher.
Before gluing fold the body #1 and curve roof and front and back faces like the roof's profil. Glue front and back faces to the roof. Then glue the lateral side to the front and back sides.
Coller la pièce 3 sous la pièce 2 en respectant l'alignement axial pour faire le chassis. Coller les bords de cette pièce 2. Coller la caisse sur la pièce 2 puis l'aérateur 4 sur le toit. Terminer en collant les armoires électriques 15 et le système de freinage 16 (compresseur et réservoir) sous la caisse et les tampons assemblés 13/14, la lanterne 19/20, l'attelage 21 et la plaque de terminus 22.
Glue part #3 under the part #2 (chassis) and verify alignment. Glue part's #2 edges. Glue body on part #2 and the aerator #4 on the roof. Finish with other small parts: glue electrical case #15 and brake system #16 (compressor and tank) under the body. Glue buffers #13/14 on the chassis, lamp #19/20 and label #22 in place on the body.
Montage d'un bogie / Bogie assembly
Avant de plier la pièce 5 coller sur les faces des roues les pièces pliées 6 et 7.

Before part #5 folding, glue in place folded parts #6 and #7.

Assembler le bogie en collant la patte inférieure et les parties avant et arrière sur les dos des roues.

Glue the bottom tab to assemble the bogie and glue wheels backside on frontside.

Pour terminer le bogie coller les pattes 8 et 9 aux extrémités.

To finish the assembly, glue front and back parts #8 and #9.
Retour / Return
---
Mise à jour 10 mars 2007
© 1999-2007 - P. Gauriat - Diffusion interdite sans autorisation - Distribution prohibited without permission.