Voisin Laboratoire 1923
Ceci a été ma participation au premier concours de modèles en carton de juin 2000 organisé par Matthew Spark. Le véhicule réel a été conçu par Voisin pour le Grand Prix de Tours en 1923. Comme sur ses autres véhicules, Voisin a utilisé des techniques originales : hélice entraînant la pompe à huile, train arrière de voie réduite pour supprimer le poids d'un différentiel, volant rectangulaire. Malgré son poids diminué et son revêtement en aluminium cette auto n'a pas gagné le Grand Prix et ne fut même pas classée car elle manquait de puissance. Sa vitesse de pointe était quand même de 180 km/h. Il n'existe plus de modèle original de ce type mais un amateur français a récemment reconstitué un modèle avec l'Association Voisin.
Here was my participation to the first Papermodeling contest in June 2000. The actual Voisin Laboratoire was a racecar for Grand Prix 1923 designed by the french famous aircraft constructor Voisin. Aircraft engineering was used to get good aerodynamics performances.
Some details were amazing: oilpump drived by a small propeller, lack of differential to gain weight, rectangular steering wheel... The engine was a 6 cylinders without valves. The car's body was build with aluminium plates over a wood structure.
After all, with a top speed of 180 km/h this car was underpowered and they don't win the 1923 Grand Prix!...
The model
The design was made in four hours and I built it in two hours. This initial design is at 1/24 scale.
Overall length of the model: 24cm. Model on two sheets (A4 or Letter) in a PDF file: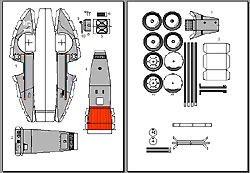 Photo du véhicule réel / The actual car

Liens Internet / Related links
---
© 2000-2007 - P. Gauriat - Last modified March 18, 2007

phpMyVisites | Open source web analytics