Locomotives de Ray Morris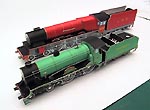 Son site : http://www.trspartan.freeserve.co.uk/card_models.htm
Un amateur anglais nostalgique des Micromodels a créé toute une série de modèles de locomotives aux échelles 1/175 et 1/150ème. Sur son site 3 modèles sont disponibles. Il distribue également un CD comportant 10 modèles qui sont tous conçus selon le même principe. Le résultat est assez joli mais après entraînement car les pièces à assembler sont petites et fragiles. En général le chassis a besoin d'être renforcé avec une bande de carton épais collée à l'intérieur. De même les deux bandes figurant les roues ont été renforcées par des équerres de carton.
Dessinés sur ordinateur, ces modèles bénéficient d'un tracé très précis et beaucoup plus détaillé que les Micromodels originaux: les modèles de Ray sont attrayants et très réalistes.
With Micromodels nostalgia, an english amateur has designed an original serie of locomotives at 1/150 and 1/175 scale. On his website, three models are downloadable for free. He sells a cdrom with ten models designed in the same manner. The result is nice but severe training is required because the parts are very small and fragile. The locochassis needs a reinforcement: I glued internally a small strip of heavy cardstock. Likewise wheels strips are reinforced with small parts straight glued.
Made with computer, drawing is very precise and more detailed than original Micromodels: accordingly Ray's models are very attractive and realistic.
Schools Class Locomotive
Modèle au 1/150ème.
Le renforcement des "roues"
par des équerres sous le chassis /
Reinforced wheels with straight glued strips.

La cabine mise en place pour épouser
parfaitement la courbure de la plateforme /
Cab glued first to adjust on curved footplate.

Le modèle fait 12cm de long /
Model is 12centimeters long
Duchess Class Locomotive
Modèle au 1/150ème.
| | | |
| --- | --- | --- |
| | | |
---
© 2001 - P. Gauriat - Mise à jour 18 août 2001