Fourgons CITROËN type H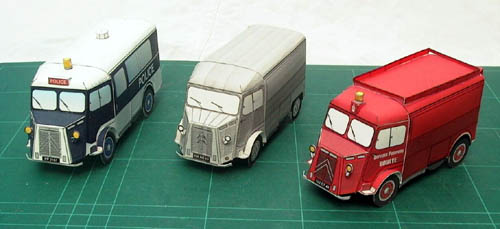 Le "tôlé" bien connu des années 1950 à 1970. Le modèle d'origine est sorti en 1948 et le modèle représenté est celui sorti en 1964 et qui a poursuivi sa carrière sans profonde modification jusqu'en 1980.

Dimensions du modèle réel : longueur 4,278m, largeur 1,97m et empattement 2,558m.

This is the famous Citroën van H with corrugated metal faces. The original car was build in 1948. The 1964 model is presented here. Built without severe modification until 1980.

Real van dimensions: length 4,278m, width 1,97m, wheelbase 2,558m.
Versions au 1/40 - Modèles au format PDF à imprimer sur A4 ou Letter. Instructions de montage.
Models at 1:40 scale - in PDF format to print on A4 or Letter size sheet. Assembly drawings.
Modèles gris / grey models H-1956 et H-1964
Sapeurs Pompiers de Bouaye / French firebrigade van H-1956
Police "panier à salade" carrossé par Currus / Parisian police van (Currus body) H-1960
---
Citroën HY bâché

Ce modèle est une extrapolation de mon modèle réalisée par Rychu, un amateur polonais. Le modèle est beaucoup plus complet et exact et sa structure a été complètement modifiée comme le montrent les photos. Il est un peu plus compliqué à construire. Il était disponible sur le site de Rychu (disparu) avec un autre modèle H.

This cardmodel is an extrapolation from my model by Rychu, a polish cardmodeler. The model is more precise and his structure is completly redesigned as you see on pictures. So, he is more complex to assemble. It was on the Rychu's site with another H model (now closed)
---
HY-van sites on Internet:
---
Mise à jour 2 septembre 2015
© 1999-2015 - P. Gauriat - Diffusion interdite sans autorisation - Distribution prohibited without permission.